Navigating the Complex World of Capex and Renovations

For the last several years, hotel renovations and property improvement plans have largely taken a backseat to new construction or general expenses when it comes to hotel spend. In the last six months, we have seen a large influx of those PIPs taken off hold and returning to the pipeline.
The balance with managing expenses and capital expenditure funds has always been a tricky one when creating the yearly budget. Add in the adjustments to how each market has been performing, the rising costs of materials, and the needs of your individual property and it creates an even more complicated situation.
So how do you overcome renovation challenges and ensure you have the CapEx when you need it most to invest back in your hotel? Are you ready for a full renovation, or do you need to just do a soft-goods refresh while building a larger reserve? What is happening in 2023 that is different from the previous few years?
Trends in CapEx Spending
During the height of the pandemic and labor shortages, hotels were able to defer their PIP and renovation schedules and use the resources previously allocated to FF&E towards operating costs. This was successful and allowed many properties to stay afloat during the difficult time.
Now with three years of use, lack of maintenance and upkeep, on top of the already deferred timeline, guests are beginning to show feedback towards outdated hotels. According to a recent JLL article, "The latest J.D. Power North America Hotel Guest Satisfaction Index shows that overall guest satisfaction is down 8 points on a 1,000-point scale, driven in part by dissatisfaction with guest rooms."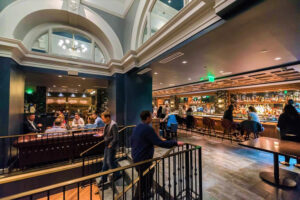 There is a lot to be said about reinvesting in your property to increase RevPAR and ADR. Aside from guestroom renovations, we are seeing a trend to increase the budget for areas that create ancillary revenue, such as spas and food and beverage locations. Guest travel and preferences have changed and they are eating at the hotel restaurants more than before. Higher spend in those areas also makes it a way for your hotel to stand out from others.
We've seen new construction dominate the hospitality market over the last few years, in part due to the deferred renovations. While new construction hasn't slowed, we are now also seeing those PIPs come back around. There is a backlog of those that have been deferred and those that are just now reaching their renovation cycle. The continued high costs of new construction materials and rising interest rates has been another reason for owners and developers to revisit their current properties.
Capital Costs and Inflation
In January, hotel investors and asset managers gathered at the annual ALIS conference in Los Angeles to talk about the state of the industry. Stephen Hennis, founder of Hotelogy, shared an indepth look at capital expenditures with his presentation on the International Society of Hospitality Consultants (ISHC) CapEx 2023 study. According to an article on Hotel Investment Today, they checked data from over 700 U.S. Hotels to see how the CapEx spend compares to years past and found that "capital spending as a percentage of total revenue would have remained relatively stable over nearly a decade, varying slightly from 2014's 8.3% high to 2023's 7.9%. However, capex spending per available room was a different story, rising from $3,702 in 2014 to $6,440 in 2023."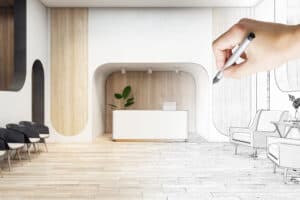 Hennis points out that many factors can affect the cost of CapEx, including ones in your property and those external factors such as inflation. What he does stress is the myth of the 4% replacement reserves being insufficient. Hotels that set aside between 9 – 10.5% for CapEx as a percentage of total revenue were able to make the changes they needed.
Even in the midst of inflation and high pricing, a soft goods renovation to refresh worn materials is the minimum needed if you are unable to do a full renovation with what you currently have allocated.
A CBRE survey as described in a Lodging Magazine article, "CBRE forecasts that the federal funds rate will likely exceed 5 percent in 2023, falling to about 2 percent by 2025." With the way that rates are now, and the forecast for the remainder of 2023, now is an important time to start your renovations.
The Time for Renovations is Here
We know that renovations boost hotel value, adding to the overall ADR and RevPAR of your hotel. Investing in your property is what creates added value, entices guests to come, and sets you apart from your competition.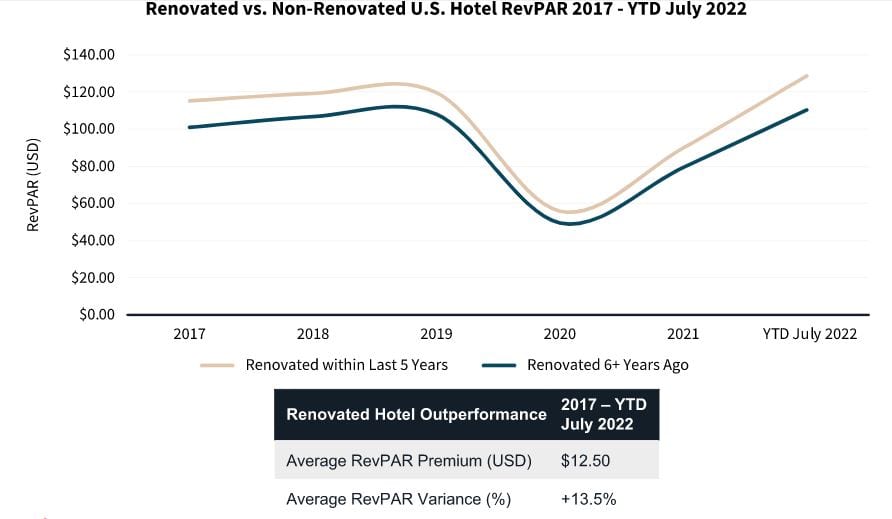 If you've delayed your renovation in the last few years, now is the time to reposition your funds and reinvest in your property. Many brands are reinforcing PIP schedules that have been on pause for a few years. There has been a decrease in the cost of container shipping over the last few months, which has been a much-needed reprieve after years of record-breaking highs. The "revenge travel" surge we have been experiencing the past few years has leveled out to a more steady flow of guests.
Even though there is some concern about a possible recession, there is nothing to show any slow down in travel, so you should ensure your hotel is new and ready for more guests. Studies like this JLL study show that renovated hotels consistently are able to bring in a higher ADR and RevPAR than those that haven't been updated in 6 or more years. Without the necessary updates, your revenue will not be as high as it could be. Not to mention that your property will have a hard time competing in a tough market.
The Next Steps for Renovation
With the rise in renovations, some with quick turnaround requirements, it can be hard to find the right partners. The rising need means that some general contractors have their schedules full of backlogged projects. That's why it's so necessary to find the right procurement agents early in the process.
Our project managers can work with you even during the design process to navigate through complicated waters of lead times and cost-effectiveness. Our job is to reduce the stress of FF&E and a renovation and guide the project to a successful completion. Reach out to us, and we'd love to help with your next project!