5 Things You Should Know Before You Hire: Procurement Agents

We're back with our third installment in our series, this time emphasizing Procurement Agents or Purchasing Agents. In the first article, we got the viewpoint from Owner's Representatives and Project Management Groups, and in the second we heard from Interior Designers. Both of those we highly recommend taking the time to read if you haven't seen them yet.
Like with the rest of the series, we reached out to some other FF&E and OS&E Purchasing Agents within the hospitality industry and will share their thoughts along with our own. We asked them a few simple questions: what are some common misconceptions, and what are some things that you should know before hiring a procurement agent for your next project? We took those answers and put a list together from what we received in response.
What to look for in a Purchasing Agent
So, you're gearing up for a project. You're building a brand new property, starting a new brand flag, or converting a property to a hotel from a different purpose. Maybe it's a complete renovation of a property you've recently acquired, or simply a branded PIP renovation within the same flag. Whatever the case may be, you need someone to help orchestrate the small details of the project. But when is the right time to hire a purchasing agent, and are there things you need to know first?
Hire a Purchasing Agent Early
This seems to be a common thread throughout this series, but hiring a procurement agent early in the process can really help to avoid or alleviate some issues further down the road. Even as early as preliminary budgeting, a purchasing agent can help you plan for the FF&E costs.
"Knowing up front what the budget of a project will be helps everyone involved stay on the same page from the very start. Designers can create within that framework, procurement teams can give realistic costs and timeframes, and unexpected surprises can be kept at a minimum." – Mark Friesen, Beyer Brown & Associates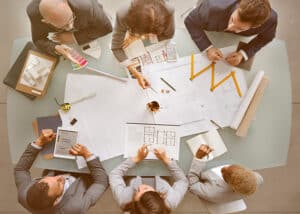 "Purchasing agents can look at the schematic designs and pull together conceptual budgets that help guide the designer and project team together to make sure everyone is on the same path forward and staying within budget." – Anne Hiter, Populate Procurement
When setting up a preliminary budget, especially for a branded flag or PIP renovation, it is important to work with a team that has prior experience with that flag. Taking past project information and brand standards into account, you can get an accurate budget estimate based on your project scope.
"Getting involved in the project early on to do budget analysis and help with budgeting overall. This alleviates the tricky issues with designers designing completely out of budget because they had nothing to go off of." – Jayme Kalama, Kalama Silvas
More than a Middle Man
There is so much more to a procurement agent's job than just buying the FF&E. They keep everyone up to date with the project while managing the timing of many moving parts. Important services including specification review, quantity verifications, ensuring product fit to intention, vendor selection, quality assurance, and final installation are generally part of the process. That's not even taking into account the vast knowledge of lead times, supply chains, and freight and warehouse logistics management.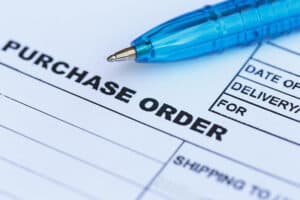 "FF&E items are not just about aesthetics; they also need to serve their intended purpose effectively. A detail-oriented agent will consider the functional requirements of each item to ensure that they meet the needs of the space and its users." – Jackie Wright, Pineapple Procurement
Your team brings experience and a connection with vendors and manufacturers that can add value to the selection process. Trusting in your procurement team means trusting that they can suggest the right people and direction that is the best possible option.
"I believe having open communication with a client is key to all success, when we suggest a manufacturer that might be a higher price, we do it because we see that it is a better fit for the project." – Monica Alvarez, Project Dynamics
"A purchasing agent does more than just buy stuff … They assess and recommend vendor selection doing everything possible to purchase from financially strong and stable manufacturers." – Anne Hiter, Populate Procurement
In some cases, individuals on procurement teams bring prior experience from other areas of the hospitality industry. Sometimes that means they have experience from a Project Management standpoint, Interior Designer, or even the vendor side.
"Many PA have design backgrounds and can help with reselection more than most designers are aware of." – Jayme Kalama, Kalama Silvas
Know Your Timelines
Keeping a project on time and on schedule is an important part of a purchasing agent's job. Often things take longer than timelines allow, so having the appropriate time allotted in your timelines from the beginning can really avoid some issues. Building in room for variables in lead times, the time consuming vendor selection and approval process, local holidays, and design approvals with manufacturers can save time and money in the long run. Unexpected and unavoidable variables can show up, so building in extra time in other areas can help mitigate delays if something were to happen.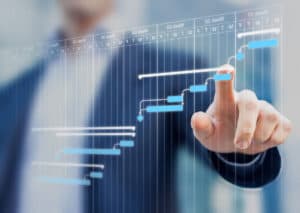 "Challenges can arise during procurement, such as product unavailability or manufacturing delays. Projects can change, and circumstances can evolve. The agent should be resourceful and capable of finding solutions to keep the project on track." – Jackie Wright, Pineapple Procurement
"There is a misconception that vendor lead times quoted at 12 weeks means delivery in 12 weeks. The vendor's lead time does not consider the time needed for PO approval, shop, finish and cutting approvals, and delivery time." – Mitch Parker, Parker International
"Fabrics and submittals ALWAYS take much longer than anticipated… turnaround from design should be built into design process. We work together tirelessly with vendors to get the client the best service possible." – Laurie Dietrich, The Ness Group
Your Procurement Agent is Working For You
"When you hire a procurement agent on to your project, you're hiring a world of knowledge, connections, and expertise along with the skills of the role itself." – Mark Friesen, Beyer Brown & Associates
It's important to know that when you hire your purchasing team, they are working for you and with your best interest in mind. They will do whatever they can to keep this project on time and within the budget, while maintaining the quality and design standards of the project.
"We act on the client's behalf as agents. We stand behind our teams/partners and have a high expectation of professionalism for all stakeholders involved in our projects." – Laurie Dietrich, The Ness Group
Communication is and will always be vital, especially when working with so many groups at once. That can only work as long as the dialogue stays open, and procurement teams have contact with the key individuals.
"The best procurement teams are proactive and not reactive. They are problem solvers that must think strategically for the good of the client and overall schedule of the project." – Anne Hiter, Populate Procurement
Every Detail Counts
For a purchasing agent, it's all in the details. Every detail counts, and there are a lot of them to make sure a project is as successful as it can be. Projects can vary on scope and type, but the requirement for an eye for detail is constant. Items need to meet specific code requirements, and quality checks need to be performed to ensure that standards are being met. Your procurement team needs to be able to manage a thousand little things at once with ease, notice small things, anticipate potential issues ahead of time, and guide the team around it as best they can.
"A project's procurement is all about the little details. There is a lot to keep track of, but when they all come together in the right way, a truly amazing project comes to life! At the end of the day, it's not about hundreds of case goods; it's about how guests will now experience this new space and bringing that to our clients." – Shawn Bolivar, Beyer Brown & Associates
---
There is a lot of great information and insights here and thank you to the Purchasing Agents that contributed their thoughts and perspectives. We hope this was helpful to see a little into the world of procurement, and we look forward to sharing our next article with you!