4 Things You Should Know Before You Hire: Interior Designers

Last month, we kicked off our first article in a new series, "What You Need to Know Before You Hire…" with the focus being on Owner's Representatives and Project Management groups. This month, we are featuring the perspective of Interior Designers. It has been wonderful to see the renovation or new construction process through the eyes of the different teams involved.
We talked with some interior designers to gather their perspective on what they would want their clients to know before they hired them. We asked them a few simple questions: what are some common misconceptions, and what are some things that you should know before hiring an Interior Designer for your next project? We took those answers and put a list together from what we heard and found as common threads.
Key Details when Hiring an Interior Design Firm
As you are looking for the right Interior Designer for your next project, here are some of the key things that you should keep in mind for the team you hire.
Past Work and Experience is Key
When you hire a team to create not just the visual look for your new space, but also the story, the feel, and the very heart of what you're creating, you want to make sure to hire the right person. That can seem a little intimidating, but having a look at what their past work has been can help guide you on that path.
"Interior design is not an afterthought. We take into consideration structure, architecture, equipment, local codes, audio visual aspects, etc. and make a project tangible to the senses." – Megan Caldera, Level 3 Design Group
From custom bespoke design to strict brand guidelines, the team's past experience can mean the world of a difference. If you are hiring a designer for a brand project, make sure that they have experience working at the very least in that scope range, if not with that brand already. Having an existing comfort level or at least an understanding of the brand's identity can help the designer meet those guidelines.
"Firm experience in designing similar projects of scope and complexity is essential." – Keith Lashley, HKS
"Don't be fooled by pretty presentations with little context.  Check references and former clients to see if the designer delivered what they promised." – Andrea Sheehan, Dawson Design Associates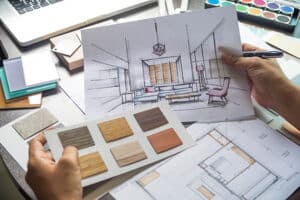 If you are looking for a design firm to create a completely custom look for your project, it's not just about the appearance. Designers are great storytellers, and create an atmosphere, an environment, and a journey for the guest. Choose a designer that has created other custom and bespoke areas that appeal to you or that fit your vision.
"It's important to choose an interior designer who has experience and expertise in the type of project you are planning, as this will help ensure that you get the best possible process and project in the end." – DiLeonardo
Clear Communication, Especially with Budget and Timelines
When first talking about your project to potential designers, and all through the entire project, having clear expectations can avoid a lot of costly time and confusion later in the process. Everything from discussing a clear and realistic budget, your project schedule, the scope, the persons involved and their exact level of involvement all lead to everyone being in the same frame of mind and being on the same level of understanding.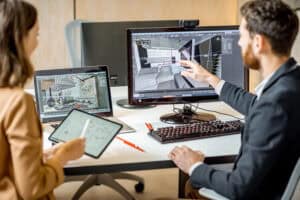 Of course this involves discussing the budget and schedule in clear, realistic terms at the very beginning. Ensure that you have accurate lead times, and try to avoid the "ideal" situation in terms of timeline and pricing. Knowing the preferred vendors can help the designers keep the sourcing process efficient. Honest conversations at the very beginning can make a clear path for the rest of the project.
"Having the team aligned around budget, approved vendors, design standards, clients' approvals, and schedule at the outset allows designers to minimize VE scope and hours." – Patricia Lopez, Baskervill
"When we have accurate information from the start, we'll put our creativity and resourcefulness to work, keeping your budget in mind. By working closely together and providing detailed project requirements, we'll find innovative solutions that meet your needs without breaking the bank." – Sonya Haffey, V Starr
Communication works best when teams work well together, and sometimes that means coming in with an understanding of the team. Communicating the vision of the project, as well as details of who the decision makers are can help keep everyone on the same page.
"…It doesn't matter if you're the client, the designer, the architect, the builder, the GC, the purchasing team or the various other entities that help make our village work – at the end of the day, your passion and joy for people, has to be more sincere than your desire to get the job or get your project finished… Nothing matters until you flow with the right people." – Jessica Ferrell, Hirsch Bedner Associates
"We feel strongly that Interior Architecture and Interior Design should be seamless for the best outcome of the project and the most timeless design strategies." – Erin Killian, Semple Brown
"Winning hospitality projects are very much the product of successful teamwork." – Jill Cole, Cole Martinez Curtis
Be Willing to Be Flexible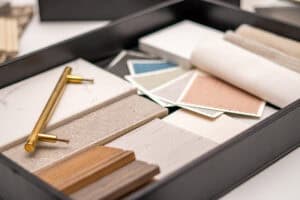 The process of designing a hotel and bringing it to life can be a lengthy one. There is room for a lot of things to occur that can shift things slightly. Also, be flexible in terms of the design and concept. As your designer is presenting ideas, be willing to listen and think outside your initial thoughts, as long as it still meets your intended goals. The design may need to shift to meet your budget requirements.
"The perfect concept in your or our minds may not fit the project. All teams get to bring ideas to the table and work together to make the best choices." – Megan Caldera, Level 3 Design Group
Trust Your Designers
You hired your designers for a reason. Trust in their ability to bring your project to a successful completion that meets with the end goals.
"Trust the design team's vision and expertise. Removing elements from the design can dilute the soul of the concept, leading to an unremarkable end product with diminished visual impact." – Patricia Lopez, Baskervill
"Our role is always to act in the clients best interest and to present options that have a high probability to enhance their profitability. They make the call, but we have to provide the options and think outside the box. Trust and integrity is key." – Andrea Sheehan, Dawson Design Associates
"Trusting our expertise and recommendations will foster a positive and collaborative relationship, ensuring that your project is completed within the designated time frame and budget." – Sonya Haffey, V Starr
---
There is a lot of great information and insights here and thank you to the Interior Designers that contributed their thoughts and perspectives. We hope this was helpful to see a little into the world of designers, and we look forward to sharing our next part of our series with you!